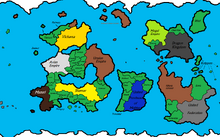 The Great War was a global conflict lasting from the beginning of 1200 to 1203. All 44 countries on Mobius participated in it.
While Robotnik had participated Inyo to join the Federation peacefully, Artemisa and Estrie were not convinced. This would prove to be a mistake; Robotnik would invade both with his powerful military, triggering a global crisis.
On one side was the United Federation(led by Generalissimo Robotnik), while almost every other nation on Mobius united on the other side.
Imperialist Powers:
United Federation
Oulu
Inyo
Vichama
Allied Powers:
Avian Empire
Mogul Empire
Shamar
Mazuri
Lindsey
Adabat
Halland
Meath
Trondelag
Artemisia
Estrie
Koippon
Ikhul
Joseon
Chun-Nan
Fircassia
Voorvaal
Zermai
Mamlakat
Gi'iz
Yemaho
Malagasy
Ntotilla
Mazuri
Glacia
Leon
Katala
Spagonia
Apotos
Florachia
Loniki
Anvala
Danski
Broduja
Tlactecs
Polmecs
Zealand
Allied Powers who later switched sides:
Ad blocker interference detected!
Wikia is a free-to-use site that makes money from advertising. We have a modified experience for viewers using ad blockers

Wikia is not accessible if you've made further modifications. Remove the custom ad blocker rule(s) and the page will load as expected.